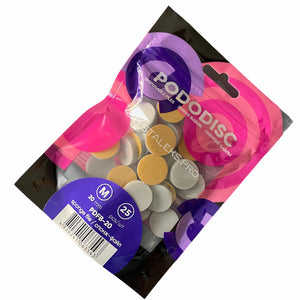 PODODISC Sponge File Pads (Medium 20mm)/ 25pc
STALEKS PRO PODODISC Sponge Replacement Pads (Files) PDFB-20:  for polishing and finishing  after PODODISC pedicure. 
MEDIUM (20 mm), Light Gray Sponge Files  ( 25 pcs in a pack), with very fine abrasive. 

Used as a finishing touch, for ideal polishing with oils or creams, by using the technique of processing (smooth long motions) and polishing with a STALEKS PRO podo disc. After the procedure, skin glows, has a pleasant sensation, and shows the effect of perfectly silky feet.

All replacement pads files are for disposable use and cannot be returned or exchanged.
---