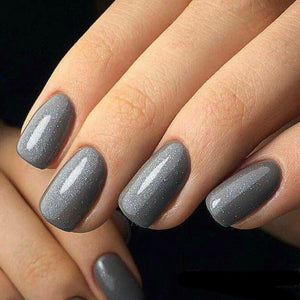 LUXIO by AKZENTZ - EFFECTS SILVER TOP GLOSS
Excellent and durable shine of Akzentz Luxio's Effects Silver Top Gloss  with added shimmer is one of the most desirable products because it can be applied over ANY color to add futuristic shine and sparkle!
With long lasting high gloss shine, this Top Gloss can be used with all Akzentz or other brands of gels.
You can purchase either a classic Base or this Top Gloss individually.
Luxio is 100% pure gel that is odorless and solvent free. Because it is not mixed with polish like some other brands, it offers more durability without any of the traditional side effects.
LUXIO GEL - TOP GLOSS EFFECTS
15ml/0.5oz each

​Benefits of Luxio over other brands:
no white spots on the natural nails after proper removal
does not dry or thin the natural nail
excellent adhesion (no aggressive nail prep or filing needed)
easy to cure
nice silky texture applies easily and does not run into the cuticle
cures in traditional CFL (compact fluorescent) lamps (aka "UV") as well as LED lamps
get more gel for less money (a full half ounce in each bottle)
no smell
no solvents or thinners
easy and fast removal with either our acetone-based or acetone-free remover
Formulated to coat and protect the natural nail, Luxio delivers ease of application along with maximum control. Luxio is the perfect choice for a long lasting gel manicure or pedicure.
PLEASE NOTE: Akzentz products are intended for use by trained and/or certified nail professionals ONLY and are not for at-home or DIY use. By purchasing this product you acknowledge you are a professional nail technician. Akzentz products are sold exclusively through professional nail distributors like NMD Store that are assigned to specific areas. As such these products cannot be sold into another distributor's area. Please check the list of all restricted states/provinces/countries 
HERE
.
---