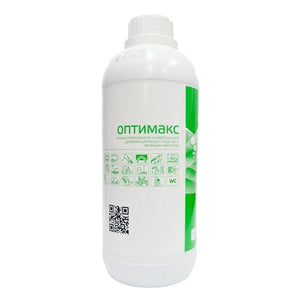 Liquid Concentrate for Disinfection OPTIMAX, 1L
Highly concentrated liquid for disinfection of manicure/pedicure or dental tools and bits, of blue-purple color. It can be also used as pre-sterilization solution. Protects instrument from corrosion and discoloration. 
ATTENTION: due to manufacturer's packaging and chemical composition of this product, we cannot guarantee that shipping of this container will be perfect: high altitude and temperature changes do cause significant pressure changes, and the bottle MAY LEAK. This is normal, we cannot defeat the laws of physics despite our best efforts to pack securely and carefully. Small amounts of leaked liquid do not make this product "unusable".  By purchasing this product, you are waiving your claims against NMD Store or Tblue insurance for all leaked bottles with this product. If you cannot accept this, please do not purchase this product.
How to use: use caution, do not let concentrate soil on open skin or eyes- you must use rubber or vinyl gloves and protective glasses!
Mixing: for 1000ml of solution, mix 30ml of the concentrate and 970 ml of water (room temperature, or tap water). Duration of disinfection is 15 min, please set the timer. Disinfecting effect would be much greater if the solution is used in ultrasound cleaner, also for 15 min. Solution can be used multiple times within 14 days from the date of mixing. If you see discoloration or white cloudy residue in the solution, replace it ASAP.  Protects and disinfects from nearly all known viruses (HIV, SARS, COVID 19, flu, Hepatitis A-B-C, and others), fungi, parasites and their eggs, TB,  and bacteria, including airborn. Expires in 5yrs from manufacturing date on the bottle. Made in Russia.
---