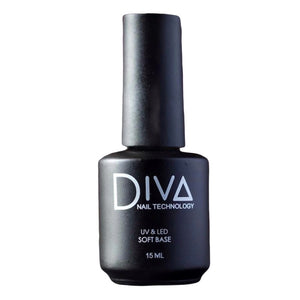 DIVA SOFT base
Introducing SOFT base by DIVA, 15ml.
This is a flexible, elastic ("rubber") soft base with outstanding adhesion to the nail plate. Needs to be layered very thin. UV Cure time 30 sec; this is the most ideal base for the pedicure- it will not thicken the appearance of the nail, and will not make the nail plate heavier AND will provide outstanding longevity for your gels and colors.
Also serves great as the bottom layer for "2 base sandwich " with STRONG or Premium bases over soft: it will improve shaping of the nail, and such sandwich from two bases will make long nails last well into 3-5 weeks without peeling or cracking. 
Made in Germany
---