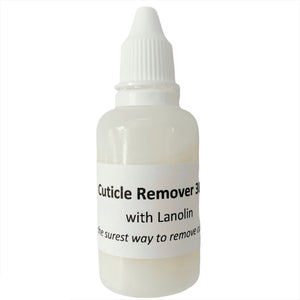 Cuticle Remover , 30 ml
Liquid Cuticle Remover with lanolin; in a convenient "dropper" bottle, 30 ml.
Cleans, beautifies, and softens the cuticle skin.
Used in 2 different but equally effective ways:
First - as a cleaning solution, in the final stage of cuticle and nail grove cleaning. A simple quick swipe with a Q-Tip will remove fine dust, nail debris , skin particles, etc -  and finish the cleaning process. It preps the skin and nail for applying the base cover. Thorough handwashing with soap and drying after 2-5 min of swiping is highly recommended, the product does dissolve skin!
Second: as a liquid cuticle remover. Apply it for 5-10 min (not more than 10 min!)  on the skin around the cuticle edge, and easily remove semi-dissolved and super-softened skin with an orange stick or stainless steel pusher.  
---