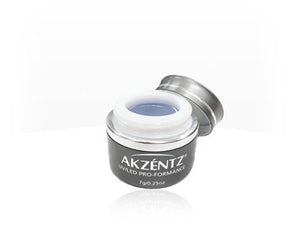 AKZENTZ PRO-FORMANCE HARD GEL : ADHERE Bonding Base Coat (7g)
ADHERE Bonding Base  is the first step in the Pro-Formance system. This bonding base gel creates perfect adhesion between the natural nail and your enhancements. No primer needed! This base has everything you need to create beautiful gel nails that last. Because Adhere is used very sparingly (very thin layer, once!) and it is only offered in 7g jars.
Apply a very thin layer to the natural nail as your first step. Cure for 30 seconds under LED and 2 minutes under UV.

DIAMOND STRENGTH TECHNOLOGY (DST) Pro-Formance is the perfect choice for creating beautiful nail enhancements. The high quality and strength is achieved through DST which utilizes superior molecular cross-linking. Pro-Formance will maintain its durability regardless of your client's lifestyle.
PLEASE NOTE: Due to the many variations in monitors and browsers, color samples may appear different on different monitors. We do our very best to make sure pictures shown are as close to the exact product as possible, but cannot guarantee that what you see is an exact match. Akzentz products are intended for use by trained nail professionals and are sold exclusively through professional nail distributors like NMD Store. As such these products cannot be sold into another distributor's area. Please check the list of all restricted states/provinces/countries HERE.
---