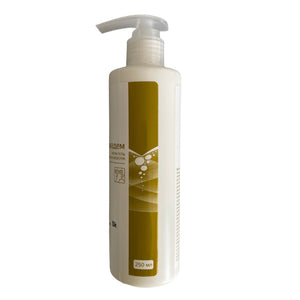 Hand Cream-Gel Diadem (250ml)
Hand cream-lotion "Diadem" for deep moisturizing of sensitive and dry skin. Regenerates and softens hands, reduces peeling and inflammation after prolonged use of gloves, disinfectants, and chemicals. 
Special natural components like olive oil and vitamin E have superior preventative effect for excessive dryness usually caused by allergic reactions, lack of water, dry air, frequent hand washes, chlorine and harsh chemicals such as alcohol-based disinfectants. 
Cream absorbs very quickly, does not leave oily residue. It also prevents dryness during the entire day, it refreshes, calms, and moisturizes for many hours. It can be used as often as needed, in cold or warm environments. Simply squeeze 1-2ml of cream onto hands and rub it until full absorption. 
Store in dry place with temperatures between 40F to 80F, away from food supplies.
Do not freeze! 
Use within 24 months from the manufacturing date (on the bottle).
---